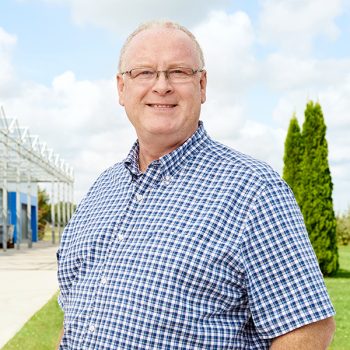 Ian Potter,
President & CEO
Ian Potter, PhD is President & CEO of Platform Genetics Inc. and also of its parent company, Vineland Research and Innovation Centre. Ian is an experienced executive who was recently Vice President, Engineering and Vice President, Business Management with the National Research Council of Canada (NRC).
He was also Chief Operating Officer at Alberta Innovates – Technology Futures (AITF). Ian has a successful track record working with many business models for research funding and commercialization as well as a strong experience developing and collaborating with a broad network of stakeholders.
He holds a PhD in Mechanical Engineering from the University of Calgary (Canada).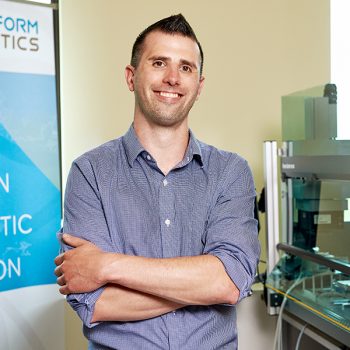 Michael Pautler,
Head of Genomics Services
Michael Pautler, PhD is Head of Genomics Services for Platform Genetics where he is responsible for scientific operations as well as North American business development. Mike takes pride in serving as a trusted discussion partner, working closely with clients on project design and execution. He provides technical expertise in plant molecular genetics, genomics and developmental biology with more than a decade of experience working closely with the seed industry on trait development projects.
Mike joined Vineland Research and Innovation Centre in 2013 as Research Scientist in Applied Genomics leading a program in horticultural trait development. His team has been engaged in next-generation DNA sequencing, marker development and plant phenotyping in a wide range of crop species.
He completed his PhD from the Cold Spring Harbor Laboratory in New York (U.S.A). He has authored scientific papers in high-profile journals such as Plant Cell and Genome Research and patented a gene that controls yield in corn.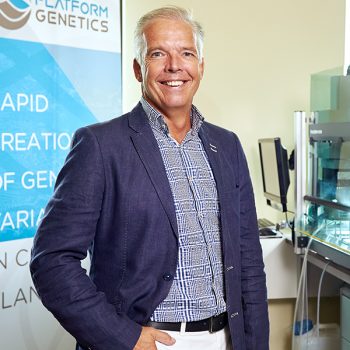 Roger Peeters,
Manager of Business Development
Roger Peeters, PhD is Manager of Business Development for Platform Genetics. During his career, Roger has gained extensive knowledge in the agri-food business, especially in the areas of R&D and biotechnology for vegetable, fruit and ornamental breeding companies.
His past experience includes Managing Director and Board Member for Agribio Group and DNA Green Group. DNA Green Group results from a merger between Dutch-based Agribio Group and German-based Dümmen and is one of the top three companies in the world in ornamental breeding. Previously, Roger worked for Syngenta Vegetable Seeds and Nunhems Vegetable Seeds.
He holds an MSc in chemistry and a PhD in biochemistry from the Radboud University of Nijmegen (Netherlands) as well as a MBA from the Derby University (United Kingdom).
The Platform Genetics Facility
Platform Genetics is co-located with Vineland Research and Innovation Centre, giving it access to an impressive array of equipment and facilities.
Our team has access to:
Tecan and Meridian liquid handling robotics systems
Illumina and Oxford nanopore sequencing systems
PCR thermocyclers and real-time instruments
Idaho lightscanners for high-resolution DNA-melting genotyping
Xevo qTOF mass spectrometer with ultra-performance liquid chromatography and gas chromatography inlets
Bruker gas chromatography mass spectrometry instrument
For population development and plant phenotyping projects, Platform Genetics has access to a 130-acre farm and a state-of-the-art pre-commercial greenhouse facility, with a high degree of environmental control and strict biosecurity protocols. Within the greenhouse, sophisticated plant phenotyping equipment is utilized including: Phenospex PlantEye multispectral plant imaging system, custom arrays of plant moisture sensors and modern Conviron controlled environment systems.